Due to seasonal construction and recent road improvement efforts, there are some travel issues that you should be aware for your trip to the 2016 Spring Trap Shooting Championship.
New Round-a-bout
A roundabout has been installed at the intersection of County Road 87 and Hwy 29.  This should reduce overall congestion considerably over previous years.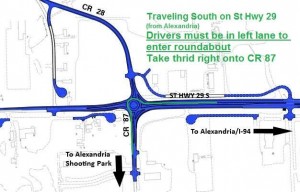 Road Construction
There are two areas of road construction travelers should be aware of:
1. Between County Road 87 Southeast and 34th Ave West the roadway is reduced to one lane. This may cause delays for southbound travelers.
2. The I-94 overpass (Exit 103) is undergoing reconstruction. This may cause delays for  travelers that must use the overpass to reach the range.
Alternate Routes:
Westbound 94:
Exit I-94 at Sauk Centre (Exit 127)
Turn left on to Main Street South, crossover I-94 bridge (0.3 miles)
Turn right on MN Hwy 28 W (15.2 miles) 4. Turn right on Pope County Hwy 57, continue on Washington Ave through Villard, MN (0.5 miles)
Turn left on Pope County Hwy 28 (6.4 miles)
Turn right on MN Hwy 29 N (8.1 miles)
At roundabout take the 1st exit onto Douglas County Rd 87 (0.9 miles)
Turn left into Alexandria Shooting Park
Southbound Hwy 29:
Turn left at intersection of MN St Hwy 29 S and  North McKay Ave NE/Douglas County Hwy 46 (3.1 mi)
Turn left onto Hazel Hill Road SE (0.8 miles)
Turn right onto Douglas County Rd 23/Maple Dr SE (2.8 miles)
Turn right onto Douglas County Rd 86 SE (1.8 miles)
Turn right onto Douglas County Rd 87 (0.5 miles)
Turn right into Alexandria Shooting Park
There is also a PDF file of the above information for printing and sharing