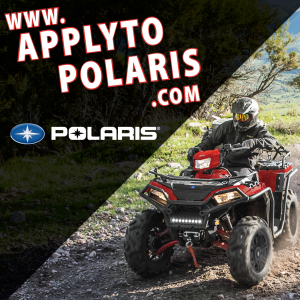 For more than 60 years, Polaris has been making high-quality, breakthrough products and we're proud to announce our support for the 2019 MSHSCTL Championships.
Polaris delivers the most complete lineup of customizable side by sides, ATVs and single-seat vehicles; purpose-built for the way you ride. From a timeless motorcycle brand to a revolutionary new 3-wheeled roadster, Polaris on-road vehicles stand out from the crowd. Polaris is the industry leader in snowmobiles and has further branched out into the thrilling new sport of snow biking. From our entrepreneurial roots as a mechanical shop, we've grown into one of the world's largest Powersports companies.
Polaris Careers
At Polaris, making great products is not just a job – it is a way of life. Roseau is the birthplace of Polaris and the sport of snowmobiling. Roseau is home to one of the Polaris facilities that handle snowmobile production, plastics manufacturing, aspects of engineering and product testing. We're actively recruiting for the best people to place on the best teams at our facility. If you're searching for the opportunity to build the Powersports vehicles you love to ride, for an amazing company with outstanding benefits, you've found it! Apply today at www.applytopolaris.com.